About Lifestyle Concepts, Inc.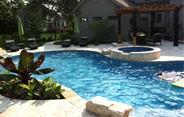 Lifestyle Concepts, Inc. has been designing, building and maintaining pools and spas in northern Illinois for nearly 40 years.
We are a family owned and operated company, serving our customers with the same courtesy, quality and respect we would serve our own family members.
We offer a commitment to excellence that is rare these days. We do this by owning the entire process from the very beginning of the design all the way through to the first time you dive in to your new pool. We've made it a rule for ourselves that at least one of the principles of the company is on site for each and every project. This means that you have access to us throughout the design, build and installation process. If changes need to be made, the right person is on site to make that happen for you.
Our construction crews are highly trained and experienced with a variety of the most up to date pool equipment and construction techniques. Their commitment to quality is evident in the craftsmanship of their work. A former competitor said it best, upon his recent retirement.
"..their crews are very experienced, trustworthy and capable of taking care of any swimming pool/spa service.. In fact, Lifestyle Concepts is the only other service company that I would fully recommend to anyone. They stand behind all of their work and you could not get anyone better to handle your swimming pool/spa needs."
We are proud of endorsements like this and strive to live up to them with every pool we build or maintain.
We look forward to designing and building your new pool, or maintaining your existing pool.