Service & Emergency Repairs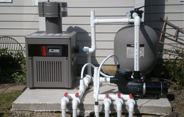 Complimenting our pool design and construction services, Lifestyle Concepts offers a comprehensive selection of pool service and maintenance products.
Even if we didn't build your pool, we can service it. We install, service and repair all major brands of pumps, filters, heaters and water handling equipment. Whether you just need seasonal prep and opening or a complete overhaul of a neglected pool, we can get it back up and running properly for the season.
Pool Updates
An important sector of our business involves helping our customers update their pool equipment. This could include such items as, pumps, filters, heaters, control systems, chlorine to salt water conversions and pool liner replacement. Lifestyle concepts will be happy to advise you on the right equipment to economically replace and update any of these items.